Proximity time attendance OTA630: 299 € HT
In a pack, everything is included for 10 employees including the port. Nothing to add except badges or additional keychains. Telephone support is unlimited for EASY pack. We propose no rental, leasing, leasing, fee by employee and by month, etc.
Clock to badge or door-key without contact (read radio)
PACK EASY-1
- 1 time clock (transfert by key USB)
- 1 power 220vac/9vdc
- 1 software designed by VEDEX W630 (1000 employees)
- 10 cards RFID (card without contact)
- 1 instructions of use (format PDF on Cd)
- 1 delivery (metropolitan France and Corse)
- 1 guarantee one year by return in our workshop
- 1 Unlimited telephone SUPPORT
299.00 € HT
PACK EASY-2
- same PACK EASY-1 but 10 key tag replace 10 cards
309.00 € HT
| | | |
| --- | --- | --- |
| Options | | |
| - Read head independent, waterproof, anti-vandale use the OTA630 control access, exterior or 2 posts of scores | | On consultation |
| - Time clock OTA630 (except pack) powered 220vac/9vdc | | 287.00 € HT |
| - Cards RFID (card without contact) additional | | 3.50 € HT |
| - Key tag RFID (key tag without contact) additional | | 4.50 € HT |
| - Racks for cards (white plastic) 10 cards | | 12.00 € HT |
Présentation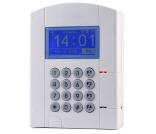 Pointeuse OTA630
OTA630 is a small and easy clock time. It is perfect to check management times in until
1000 employees factory. OTA630 uses cards without contact by radio reading.The card is read when it is moved near 3 cm by the time clock. No wear, no part moving : a reliable clock for many years.
You can transfer clocking data with an usb key. Just plug in a usb key in OTA630, then pass a special transfer card and the data are transfered. Vedex got the firmware of this product modified to get an easy and secure use (impossible to « steal » the clocking data without the special card).
Features
Simplified and made safe operation transfer by key USB (function designed by VEDEX)
Large blue backlighted graphic display
French display
Buzzer
Visualization of the user's name on the display
Capacity for 24000 pointings
up to 1000 users
Internal battery power to keep the time clock no under tension
Total Battery power in the event of power cut (about 4 hours, new battery)
Getting data through an USB key
Food per external power pack : 220 Vac/9 Vdc
Operating temperature 0°- 45°C
Operating range 20% - 80% of moisture
Height: 175 mm - Width: 130 mm - Depth: 45 mm
Weight: 0.55 kg
The features can be modified without notice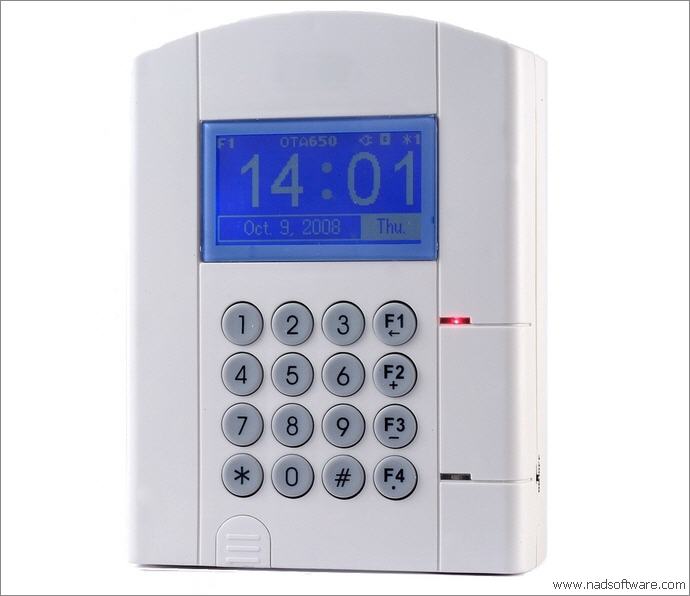 Pointeuse OTA630
Logiciel de gestion des temps VEDEX W630
W630 (developed by Vedex) : this ergonomic and simple software of approach is intended for the companies for which the need is more directed control. W630 is used mainly from 3 buttons :
TO TRANSFER : transfer of the data stored in the clock (your computer is not used when the employees clock in : the time clock is autonomous)
CORRECT : vizualisation from filters (absents, presents, odd pointings, etc.) and correction or manual addition
PRINTING : printing under many formats (date to date, week to week, hours/minutes or hours/ heures / hundredths, sorting)
NB : Every Software Vedex includes a system of double or triple daily lines allowing the storage of not modified or modifiable orignal pointings on the first line. The correct storage of a pointing is so on always proved even after a manual correction.
Printing examples
Cliquez sur l'image pour agrandir
Transfer
W630 seeks automically the USB key.The transfert. The transfer is carried out without any other intervention
Easy way : several time clocks can be transfered within the same USB key.
Correcting (1)
The list of the pointings allows a research and an easy correction of the pointings. A simple click on one of the filters causes the posting of all (every day)
- presence (at least one pointing a day)
- absence (no pointing)
- even and equal to envisaged (many pointings even and equal to the theoretical number of pointings informed in the personal card)
- even and different from envisaged (number of even pointings and different from the theoretical number of pointings informed in the personal card)
- odd (odd number of pointings) The period of visualization is adjustable (from one day). The limits on employee beginning and end employee are also positionable.
Correcting (2)
Correction display correction present 3 lines per day. The blue one represents the real pointings onf the employee, this line cannot be modified by the user. The green one represents the pointings transformed by the program according to the parameters of district of the employee, this line is not modifiable by user. The last one is by default equal to the second one. On this line, you can correct any data or add some hours. This line is filled in by the software as long as you don't modify any data.The program does not modify it any more as of your first modification. Management of 14 de 14 inputs/outputs per day. The colour of inpout and outpout boxes are different.
You manage this screen without the mouse : the keys ARROW, ENTER or TAB => change line or box
- keys « PAGE UP» and « PAGE DOWN» => change the empoyee
- keys CTRL + PAGE UP and CTRL + DOWN PAGE => change the week
- F2 key => save. The keyboarding is shorter (« 10 » will be displayed on the screen «10.0», «1» will be displayed on the screen «1.00», «.1» will be displayed on the screen «0.10»,«01»will be displayed «0.01»). The value is preselected for the replacement as soon as the cursor arrives in the box.
Printing & export
This is the last step. So easy that previous screens : you just have to select an editing format, to definite beginning and endings dates of printing, the order of printing sort (by name, number or register), beginning and ending employee, printing hours by format hours/minutes or hours/hundreths. Then click « IMPRESSION», your document can be seen on screen (possible zoom mode), then you can print or cancel.
3 easy steps
Within 3 easy steps, you have been shown the use of W630. All is conceived in W630 to facilitate the use to you : the menu (that can be placed either left or right part of the screen) always presenting the possible choices adapted to the screen (no gigantic menu to gigantic to scan)
- the different colours used (for example the active filters in the list of pointings is green, while others are red)
- keyboarding date or weeks by clicking directy on a calendar (useless of type 8 digits and 2 separators)
- keyboarding and navigation rapids in correction of pointings (you leave your hand on the keyboard)
- the permanent memorizing of the pointings really carried out by the employee (absence of dispute)
- the possibility of rounding the total of the week
- the automatic research of the key
- only one click to tranfer the data
- the checking print
- autosaving of your data in under-repertory (with each starting of W630 and only once a day)
- manual saving (only one click when you want) in an under-repertry and many other fonctions to discover..
The form of the personnel
To create or modify an employee is quick and easy : one employee is affected with a card number
- his name can be seen on display when he clocks in
- a time clock T1000 allows to manage up to employees
- selection of the round-off of entry (0, 5, 10, 15, 30 ou 60 minutes higher)
- selection of the round-off of exit (0, 5, 10, 15, 30 ou 60 minutes lower)
-tolerances of adjustable entry or exit (time of late entry or exit in advance allowed)
- shift of entry or exit (makes it possible to round the hours on values other than those ending in 00, .05, .10, .15, .20, .25, .30, .35, .40, .45, .50, .55)
- selection of the round-off of the total of the week (0, 5, 10, 15, 30 ou 60 minutes lower or higher)
- shift of the point midnight (the change of day can be done between 0:00 and 12:00)
- dynamic extension of day (the change of day is automatically made X hours after the last entry : this system makes it possible to manage schedules 3 X 8 without parametrize again)
- management of personnal messages (an employee can read a 16 characters message as he clocks
- management of inactivity periods (temporary interruption of contract)
The use of W630 requires
- 1 Go of ram minimum
- Win XP minimum
- screen 1024 * 768 minimum
- 30 Mo of empty space
- Cd Reader
- Port USB
| | |
| --- | --- |
| Download pdf files | Download software |
| | A window will open when you click on « install » then click on « Execut » (do not click on « record ») |
| | |
NAD Software
29 rue PASTEUR
21200 BEAUNE
FRANCE
------------------------------------------
Distributeur des solutions VEDEX
Téléphone: 03 80 21 17 59 (+33 380 211 759)
Télécopie: 03 59 08 77 47 (+33 359 087 747)
Siret: 509 908 968 00027
Dispensé d'immatriculation au registre du commerce et des sociétés (RCS) et au répertoire des métiers (RM)
TVA non applicable, article 293 B du CGI
Last modification
le 02/04/2011
NadSoftware.com: vente de pointeuses (pointeuse) et badgeuses (badgeuse) en hors taxe.
NAD Software: auto-entreprise en franchise de TVA.
NAD Software: pour les particuliers, professions libérales, entreprises ne récupérant pas la TVA et entreprises ne voulant pas avancer la TVA.
Distributeur des solutions Vedex.
Pointeuse, pointage des temps de travail, pointage des horaires, gestion du temps, absence, présence, crédit, débit, heures suplémentaires, heures de nuit, pointeuse digitale, logiciel De pointeuse, pointeuse biométrique, achat pointeuse, fournisseur de pointeuse, pointeuse de magasin de grande distribution, badgeuse, pointeus, emprinte, emprunte, digital, biometric.
NadSoftware.com: sale of clocks (time clock) and badge readers in duty.
NAD Software: auto-company free of VAT.
NAD Software: for individuals, professionals, companies do not recoup the VAT and companies unwilling to pay the VAT.
Distributor Vedex solutions.
Attendance time system, jig, badge readers, pointing of working time, pointing schedules, time management, absence, presence, credit, debit, Extra hours, night hours.